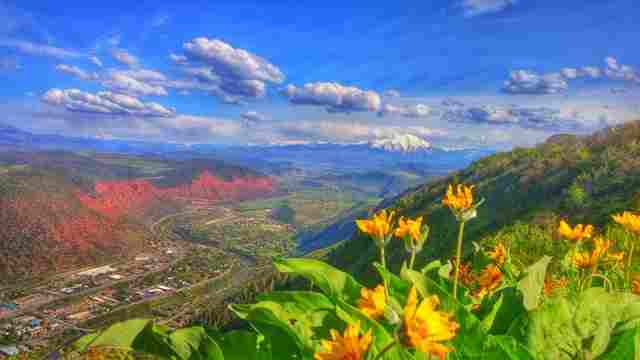 Photo Credit: Visit Glenwood
Glenwood Springs is not your average mountain town. This is a town famous for its water — from the two rivers, the Colorado and the Roaring Fork, to the world's largest mineral hot springs pool in the heart of town, and the gorgeous Hanging Lake that sits high above it. The historic resort town is truly the land of water and brings locals and visitors all the adventure that goes along with it. Glenwood Springs is located at the confluence of the Colorado and Roaring Fork rivers just off Interstate 70.
This historic town is famous for the mineral-rich waters of Glenwood Hot Springs and Pool attracting visitors for over 125 years and the towering walls of the 16-mile Glenwood Canyon which was carved by the force of the Colorado River and snow-melt from the Continental Divide. In addition to the amazing amenities water creates in this community, Glenwood Springs is also home to all the mountain resort experiences you expect in the Rockies. Other attractions include the Glenwood Caverns Adventure Park, skiing at Sunlight Mountain Resort, rafting, hiking, mountain and road cycling and much more. Glenwood Springs is the county seat of Garfield County.Millions of years of water carved Glenwood Caverns into Iron Mountain, where today you can tour subterranean passages with amazing cave formations. Hundreds of years ago, the Ute Indians used the Yampah Vapor Caves to heal their bodies and minds. Now, open to the public to soak in the healing powers of these natural steam filled caves formed by the mineral hot springs that flow through them.
Hanging Lake is a Colorado treasure and a rare example of a travertine geological formation located in the heart of Glenwood Canyon on the White River National Forest. The 1.2 mile (1.9 km) trail is steep and rigorous, but rewarding once you see the natural beauty that awaits hikers at the top. It's a Natural National Landmark and is popular with travelers for its awe-inspiring beauty and gentle Colorado waterfalls.
Glenwood Springs was originally known as "Defiance", a name sometimes still used by local teams or businesses. Defiance was established in 1883, a camp of tents, saloons, and brothels with an increasing amount of cabins and lodging establishments. It was populated with the expected crowd of gamblers, gunslingers, and prostitutes. Town Founder Isaac Cooper's wife Sarah was having a hard time adjusting to the frontier life and, in an attempt to make her environment somewhat more comfortable, persuaded the founders to change the name to Glenwood Springs, Colorado, after her beloved hometown of Glenwood, Iowa.
The location of Glenwood Springs, as well as gaining a stop on the railroad, rapidly made it a center of commerce in the area. The city has seen famous visitors, including President Teddy Roosevelt, who spent an entire summer vacation living out of the historic Hotel Colorado. Doc Holliday, a wild west legend from the O.K. Corral gunfight, spent the final months of his life in Glenwood Springs and is buried in the town's original Pioneer Cemetery above Bennett Avenue. Kid Curry is buried in the same location.
Fast Facts:
County: Garfield County
Population: 10,000
Mayor: Jonathan Godes
Transportation: Roaring Fork Transportation Authority provides bus transit service in Glenwood Springs.
School District: Roaring Fork School District
Elementary and middle schools:
Sopris Elementary

Glenwood Springs Elementary

Riverview PK-8 School

Glenwood Springs Middle School
High School
Glenwood Springs High School
Parks & Recreation:
100 Wulfsohn Road

Glenwood Springs, CO81601

Axtell Park, Brush Creek Mountain Park, Centennial Park, Conservancy Park, Glenwood Springs Whitewater Activity Area, Gregory Park, O'Leary Park, Oasis Park, River Trail Dog Park, Sayre Park, Sister Lucy Downey Park, Sopris Park, Two Rivers Park, and Veltus Park.
Glenwood Springs also celebrates arts, music, and culture with its free Wednesday night summer concerts and the annual Strawberry Days in mid-June.
Looking for listing information in Glenwood Springs? Check out the links below:
Newest Listings in Glenwood
Listings in Glenwood with Virtual Tours
Listings in Glenwood with acreage (10 or more)